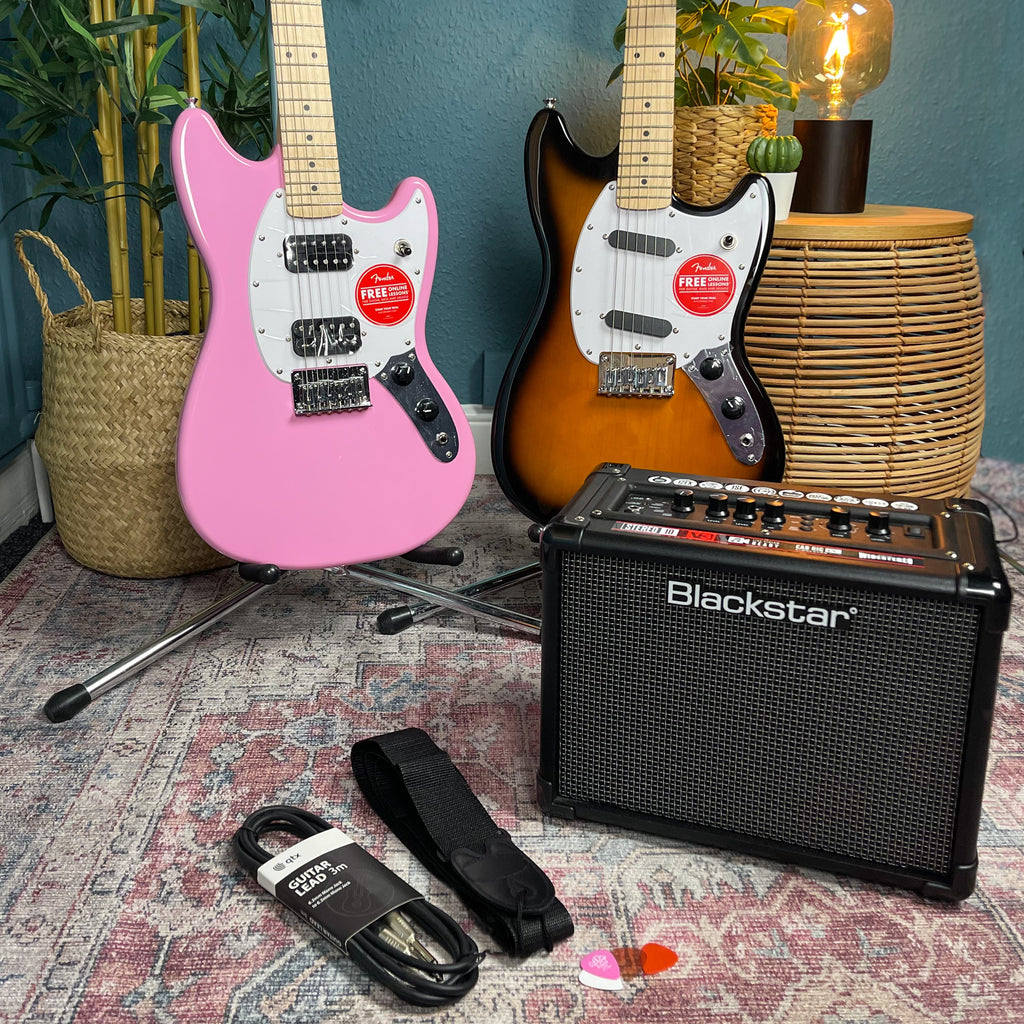 Fender
Electric Guitar Starter Package: Squier Sonic Mustang & Blackstar ID:Core 10 V3
R&T MUSIC STARTER PACKAGE
This is one our most popular package deals we offer for beginners, but this is not only for for those beginning their journey into the guitar world. We use these Amplifiers ourselves and the guitars far surpass the price point, with superb playing feel and tonal qualities.
We always have this package available to try in store and there will always be a member of staff who will happily talk you through it!
Package Includes: 
Squier Sonic Mustang  (Flash Pink or 2-Colour Sunburst)
Blackstar ID:Core 10 V3 Amplifier 
Lead, Strap & Plectrums
Gig bags are available for an additional price. Email info@randtmusic.co.uk for the best price.
THE SQUIER SONIC MUSTANG
The Squier Sonic™ Mustang® is ready to launch any musical adventure into warp speed, offering iconic Fender® style and inspiring tone for players at any stage. This Mustang sports a slim and inviting "C"-shaped neck profile and a thin, lightweight body for optimal playing comfort while a pair of Squier® single-coil pickups chime with crystal clarity for a wide variety of versatile tones. Further details of this model include a short 24" scale length, 6-saddle hardtail bridge for reliable intonation, sealed-gear tuning machines for smooth, accurate tuning and durable chrome-plated hardware that is sure to catch the spotlight.
FEATURES
Short 24" scale length
Squier single-coil pickups
6-saddle hardtail bridge
Sealed-gear tuning machines
BLACKSTAR ID:CORE 10 V3

New and Improved
The ID:Core V3 is an enhanced version of Blackstar's best-selling V2 series of high-quality portable guitar amps. In addition to a refined look and an ergonomic moulded handle for easier transport, the ID:Core V3 boasts an overall improved sound thanks to its lower noise hardware. When used with the compact PB-1 powerbank, you can free yourself from the shackles of mains power and take your ID:Core V3 anywhere, making it a suitable amp for busking. The 40 is compatible with the FS-18 and FS-11 footswitches if you need hands-free control of the effects.

Super Wide Stereo
One of the stand-out features of the ID: Core V3 range is the lush stereo width provided by the dual speaker configuration. Combined with the upgraded "Super Wide" studio-quality effects (simultaneous Mod, Delay and Reverb with four variations of each one), the ID: Core V3 is capable of deep and expansive tones. Using the tap tempo button, you have the ability to sync up the effects to your music. The ID: Core V3 can double as a brilliant speaker for general use (listening to music, connecting to your TV) as it has a Line In and full-range, linear speakers.

From Crisp Funk to Brutal Metal
You have six voices to choose from (Clean Warm, Clean Bright, Crunch, Super Crunch, OD 1 and OD 2), giving you an arsenal of huge tones that can then be sculpted with Blackstar's patented ISF control. This allows you to continuously shift from an American-style EQ response (pronounced treble and bass) to a British-style one (warmer mid-range). Once you've dialled-in a sound that you like, you can then store it in up to 12 patch slots to recall later. There's a Manual mode if you prefer a classic approach to tweaking your amp.

Powerful Software Capability
The ID:Core V3 features USB connectivity, allowing you to take its capabilities to the next level. Once connected, the ID:Core V3 is transformed into a 4-channel USB audio interface with low-latency recording and the ability to re-amp unprocessed signals. When recording via USB, you can take advantage of Blackstar's advanced Cab Rig Lite software, which accurately reproduces the feel of a real mic'd up cab. You can fine-tune the emulated relationship between the mic and speaker as well as edit the cab, mic and room environment. Live streaming your tone has never been easier, with a specialised TRRS 3.5mm in/out that allows you to stream to and from a compatible device.

The Architect software gives you precise control of the ID:Core V3 and lets you back-up your patches. There's a thriving community you can share your favourite sounds with, as well as try new ones out.

A Tough Companion
The ID:Core V3 range is housed in a robust gig-and-tour ready package that'll be able to withstand all the knocks and bumps that come with regular use. If you're looking for an affordable amp that can cover basically any genre, give you a tonne of powerful software options and sound amazing - the ID:Core V3 range is a top choice.

FEATURES:

- Guitarist-friendly controls combined with the power of programmability for an amazingly versatile tonal range from pristine clean to high gain.
- These amps use full range, linear speakers, so they're perfect for gaming audio or watching movies. ID:CORE V3 is an amp you can use every day.
- Live streaming made easy using a TRRS 3.5mm cable for input/output live streaming to a compatible device (i.e. iPhone, Android phone).
- Cab Rig Lite is our next-generation Cab Simulator, with user-configurable controls for elements such as cabinet, mic and room environment.
- Cab Rig Lite software enables you to fine tune the simulated relationship between mic and speaker delivered through the Blackstar ID:CORE V3's direct USB recording output. Unlike 'snapshot' IRs these responses are customisable by the player.
- Patented ISF control allows you to infinitely adjust the response of the tone control network.
- Advance controls using panel shortcuts, including Effect Speed / Time and audio levels.
- Hold down the Reverb button to engage the tuner. The effects LEDs show if you're sharp, flat or in tune and the 6 Voices represent each of your 6 strings.
- Re-voiced and enhanced studio quality effects create beautiful sonic textures in stunning Super Wide Stereo.
- PB-1 Power Bank compatible so you can use your ID:CORE V3 anywhere, perfect for busking or on the go.
- 4-channel USB audio makes low-latency recording and professional re-amping simple, turning your amp into an audio interface.
- Architect software for deep editing and patch sharing.
- Small in size, but delivers huge tones from a cool-looking compact amp.
- There's a unique recessed handle on the rear for easy carrying.
VOICE DESCRIPTION:

Clean Warm: Full-bodied, dynamic clean with a looser bass and glassy highs
Clean Bright: 'Boutique', with tighter bass and chiming mids and highs; breaks up when pushed hard
Crunch: Classic clean break-up to ballsy mid-gain crunch with a looser bass response
Super Crunch: Higher gain, fatter crunch with a tighter bottom-end
OD 1: 'Hot-rodded' Master Volume overdrive with medium power amp damping
OD 2: Mid boosted, articulate hot-rod overdrive
EFFECTS:

Modulation: Phaser, Chorus/Flanger, Envelope, Tremolo
Delay: Linear, Analogue, Tape, Multi
Reverb: Room, Hall, Spring, Plate
SPECIFICATIONS:

Power: 10W (2x5W Super Wide Stereo)
Voices: 6 Voices; Clean Warm, Clean Bright, Crunch, Super Crunch, OD1, OD2
EQ: Patented ISF (Infinite Shape Feature)
Effects: Delay x 4 Modulation x 4 Reverb x 4 with Tap Tempo
Patch Locations: 12 Patches
Cab Rig Speaker Simulator and Headphone Output
Line In / Streaming
Tuner
USB
Speaker: 2 x Blackstar 3"
---
Share this Product
---
More from this collection