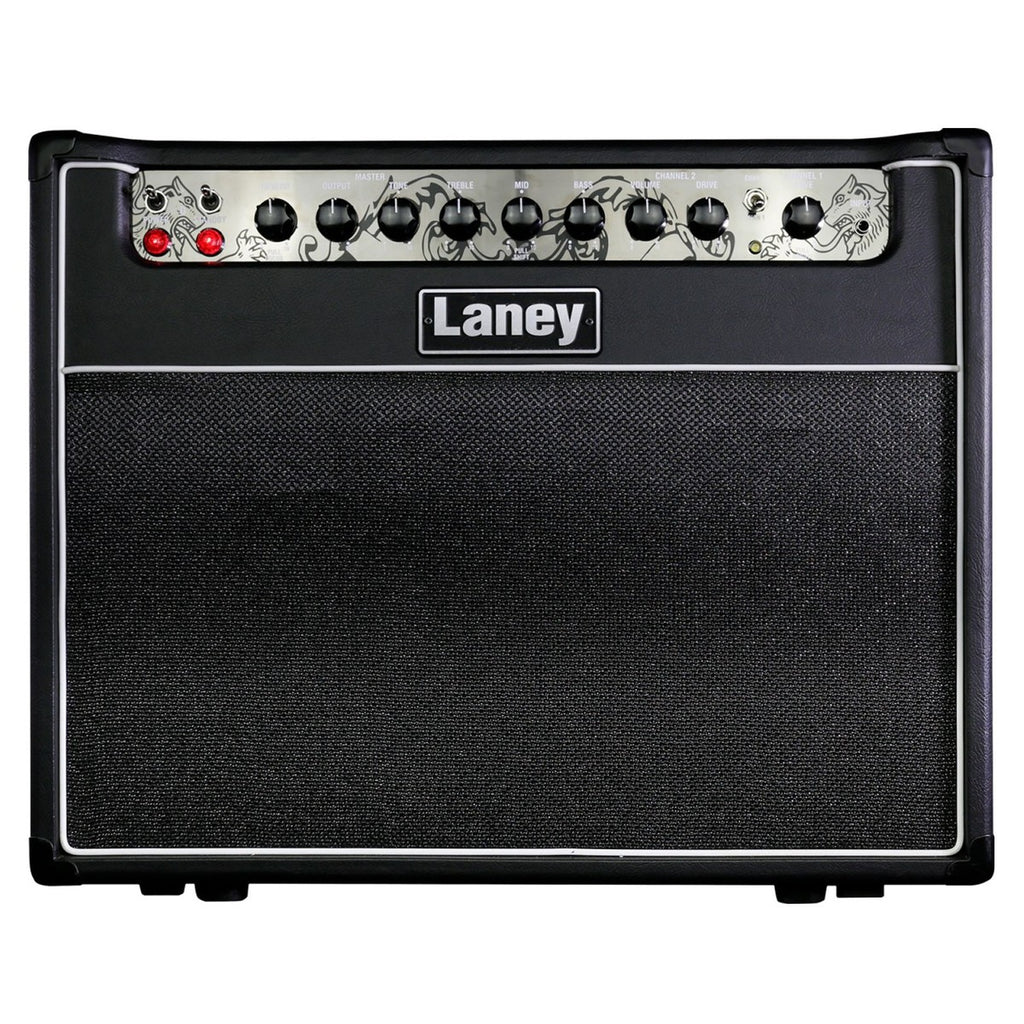 Laney
Laney GH30R-112 Guitar Valve Combo Amplifier
Gone are the days of an amp doing just one thing well. The Laney GH30R 1x12 Valve Combo is a tone seeker's dream. It can deliver everything from percussive country cleans to aggressive '80s rock tone - effortlessly.
The GH30R 1x12 recaptures the magic of pushed power tubes. All at a volume you can actually experience at home! Thanks to its very clever and practical design, this allows for the power and pre-amp sections to be controlled independently. The master output control determines how 'open' the power tubes are. They let you generate punchy and harmonically rich tones, much like the kind of sound you get from pushing vintage Amplifiers into their 'sweet spot' - spilling vintage tone into a modern mould.
Not many of us really get the chance to experience power amp distortion. You get your new amp home and find you can't 'crank' it to hear what you heard online or instore - usually because you can't run your amp loud enough to hear it. The Laney GH30R finally answers that issue - it's a unique and practical innovation. It enables you to blend pre-amp and power amp in line with a separate 'master output'.
You get that coveted power amp distortion by simply turning up the master volume – this isn't about increasing output. This is about running how 'open' those power amp tubes run. Set the master output to full, and on channel one, start increasing the drive from zero and you can experience that rich and dynamically open power amp distortion.
Definitely! It's a home recordist's dream. Little things like being able to get feedback at low volumes means you can get this amp to absolutely wail - but at a volume a baby could sleep through. So, when it comes to recording, it isn't a case of putting a mic on an amp that's loud enough to destroy your ears to get that tone anymore!
Equipped with an XLR D.I. out that is post power amp! Super unusual for an amplifier, but this means you get a much nicer D.I. signal that is great for pairing with software Amplifiers or cab sims. Is it still too loud? Then throw on some headphones and use the emulated speaker out, and you can feel and hear all the power of your new amp without disturbing anyone around you – a perfect solution to an age-old problem. This amp is loud enough to hold its own at small to medium sized gigs. Don't let 30W fool you - this can get loud! With its top-quality plywood enclosure and striking appearance, it's not only reliable and strong but also looks the part.
Laney have included an XLR D.I. that allows the power amp to be included in the signal, so you can get huge sounds plugged directly into a PA! As well as a mic placed at the front of the cab, you will be greeted with massive guitar tones that will floor your audience.
The GH30R-112 has three knobs with 'pull' functions which yet evolve the tonal possibilities of this already incredible amp. Channel one has a bright push/pull knob that adds a set amount of chime and bite. This is great for humbuckers needing a little more clarity or single coils for extra bite and 'air' – ideal for when you need chords to cut through.
In channel two you have a mid-shift control that shifts the mid focus, eliciting a tighter, more modern tone. And with the reverb pull focus engaged, you've got a range of tones from huge, all-encompassing reverb to a more reigned in tone that opens up the natural vibe of your guitar. It's also worth noting that excluding a spring reverb tank really reduces the overall weight - and when the digital reverb is this good, why would you need it?
Last in the amp chain is the tone control. It's quite hard to understate how powerful this is. Incredibly sensitive to different speakers and cabs, you can alter how your amp reacts - especially with overdrive sounds. You can tame the highs which would give you a smooth treble, or you can boost the trebles for a more aggressive edge. This really helps you home in your sound.
FEATURES:
Power: RMS 30 Watts
Inputs: 1
Channels: Clean & Drive
Equalisation (Channel Two): Passive Bass, Middle and Treble
Bright (Channel One Push/Pull Drive Knob): Yes
Mid-Shift (Channel Two Push/Pull Mid Knob): Yes
Reverb Focus (Master Push/Pull Reverb Knob): Yes
Preamp Valves: 4x EC883
Output Valves: 2x EL84
Class: Class A/B
Reverb: Yes
Speaker Connections: 5x Jacks
FX Loop(s): Yes
Impedance: 4, 8 and 16 ohm
Drivers: 1x 12" Celestion V Type
Baffle: Marine Grade Plywood
Cabinet Design: Marine Grade Plywood cabinet with red banding side strip, leather strap handle and folding tilt back mechanism
Weight: 21 Kg
Dimensions (mm): 475 x 610 x 285
Channel One: Drive
Channel Two: Drive, Volume, Bass, Middle, and Treble
Master Section: Global Tone, Master Output, and Reverb
---
Share this Product
---
More from this collection