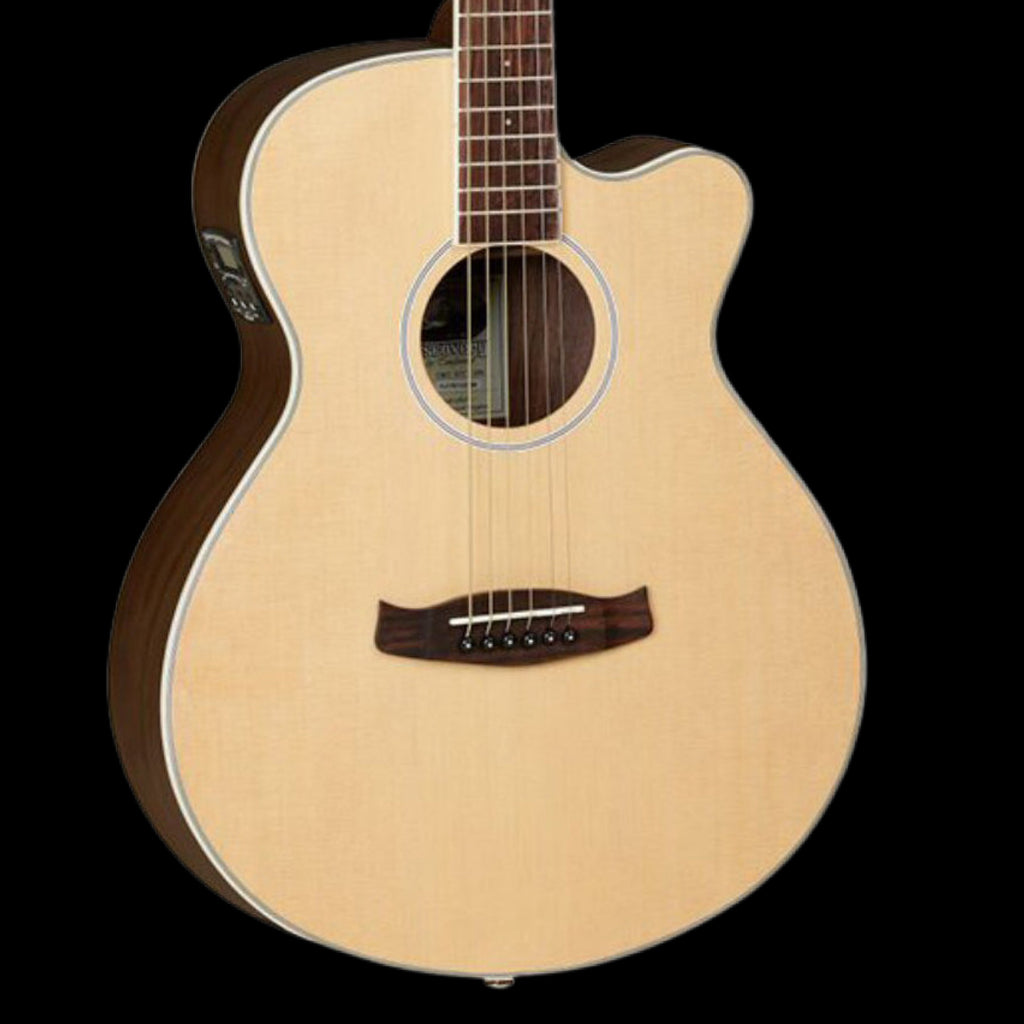 Tanglewood
Tanglewood DBT SFCE EB Electro Acoustic Guitar in Open Pore Satin
The Tanglewood DBTSFCEEB Discovery Super Folk Electro Acoustic Guitar is a brilliant example of quality Tanglewood craftsmanship at an affordable price! The Discovery features Tanglewood's most popular body shape, the Super Folk. Its super folk cutaway body is ideal for finger-picking players. The nipped-in waste allows players to hold the guitar close to the body, providing you with an extremely comfortable playing experience. The  Tanglewood Discovery is crafted from a spruce top, ebony back and sides, and a mahogany neck, delivering an incredibly bright, piercingly rich guitar. The super folk shape provides a comfortable playing experience and is perfect for the intermediate and advanced players. The Tanglewood Discovery can handle many genres including, rock, pop, blues, country, and especially perfect for those who specialise in folk styles. The Discovery is ideal for the gigging guitarist due to Tanglewood's on-board preamp and tuner for stage ready performance!
The Tanglewood Discovery is crafted with a solid spruce top, and an ebony body, offering a traditional appearance and an incredibly bright sounding, richly-toned guitar. The spruce top produces a crisp, versatile tone suitable for many styles of playing, and an un-muddied sound which will retain its clarity when you strum hard. The spruce top will also deliver a wide, dynamic tonal palette. The wood itself is quite elastic in nature, which resonates well whilst remaining strong, and provides a focused, clear sound of deep lows, warm midi-range, and bright singing highs. The versatile spruce top blends beautifully well with the Discovery's ebony body, projecting a crisp attack, great sustain, and excellent durability. The ebony body projects lots of overtones, produces an immensely bright tone, combined with its spruce top and mahogany neck, provides you with melodic tonal fusion.
The mahogany neck is topped with a rosewood fingerboard that delivers a warm, bright, and sparkly tone that really shines through when using finger picking techniques. The reason why many guitar necks are made from mahogany is because the wood responds greatly to picking styles, strumming, and various finger techniques with equal ease. The rosewood fingerboard provides a smooth playing experience and enables players to easily explore with finger-picking techniques, making it ideal for folk genres. The Discovery is finished in natural open pore satin to provide a smooth playability and stunning appearance.
The Tanglewood Discovery features one of Tanglewood's most iconic body shapes, the Super Folk. Tanglewood began by shaping the guitar to specs of the modern industry for great playability, we now have the well-crafted super folk cutaway. The shape was first introduced over 25 years ago on their award winning TW45 Sundance Pro guitar. The super folk cutaway body has become a must have among folk players because it's a bigger version of traditional folk guitars, offering more volume and tone, in a comfortable shape. The cutaway design enables players to reach more challenging chords with ease. The super folk can handle many genres with equal ease, and will cut through a live mix greatly. The Discovery is especially perfect for those who specialise in the folk genre.
The Tanglewood Discovery comes equipped with Tanglewood's own preamp and tuning system, the Tanglewood TEQ-3BT. This sophisticated preamp has an easy-to-read LCD back-lit tuner, and three controllable EQ bands (low, mid, high and volume).
The Tanglewood Discovery is a beautifully crafted, well-designed guitar that offers players a premium playing experience at an affordable price. The small finishing touches projects the look of a more expensive Tanglewood due to its stunning natural open pore satin finish and contrasting chrome hardware. Featuring chrome due cast machineheads with black rubber buttons, players can benefit from quick and easy tuning and a classy appearance. The Discovery also features stunning genuine maple binding, along with a signature multi-stripe sound-hole rosette.
FEATURES:
Spruce top provides versatile soundboard
Ebony body projects extremely bright tone
Rosewood fingerboard for smooth play
Mahogany neck provides distinct warmth and handles finger techniques with ease
Ideal for the gigging guitarist due to on-board preamp and tuner
Maple binding provides a traditional appearance
Super folk shape can handle many genres and provides a comfortable playing experience
Cutaway design enables players to reach challenging chords with ease

SPECIFICATIONS:Body & Bridge
Series: Discovery
Top Material: Spruce
Back/Sides Material: Ebony
Body Shape: Super Folk Cutaway
Binding: Genuine Maple
Bridge: Rosewood
Saddle: ABS White
Colour: Natural
Finish: Natural Open Pore Satin
Neck & Fingerboard
Neck Material: Mahogany
Fingerboard Material: Rosewood
Finish: Natural Open Pore Satin
Number of Frets: 21
Nut: ABS White
Nut Width: 43 mm
Fingerboard Inlays: Traditional White Dot
Scale Length: 650 mm
Hardware & Electronics
Hardware Colour: Chrome
Tuning Machines: Chrome Die Cast With Black Buttons
Preamp/Tuner: Tanglewood TEQ-3BT W/ Built-In Tuner
Preamp Controls: Volume, High, Low, Mid
All our guitars have a Gold Service before we allow them to leave!!
A new set of strings if needed.
String height, truss rod and intonation adjusted.
Polished frets.
Lemon oiled fingerboard (If applicable).
Electrics checked and serviced.
A final polish of the guitar before delivery.
---
Share this Product
---
More from this collection