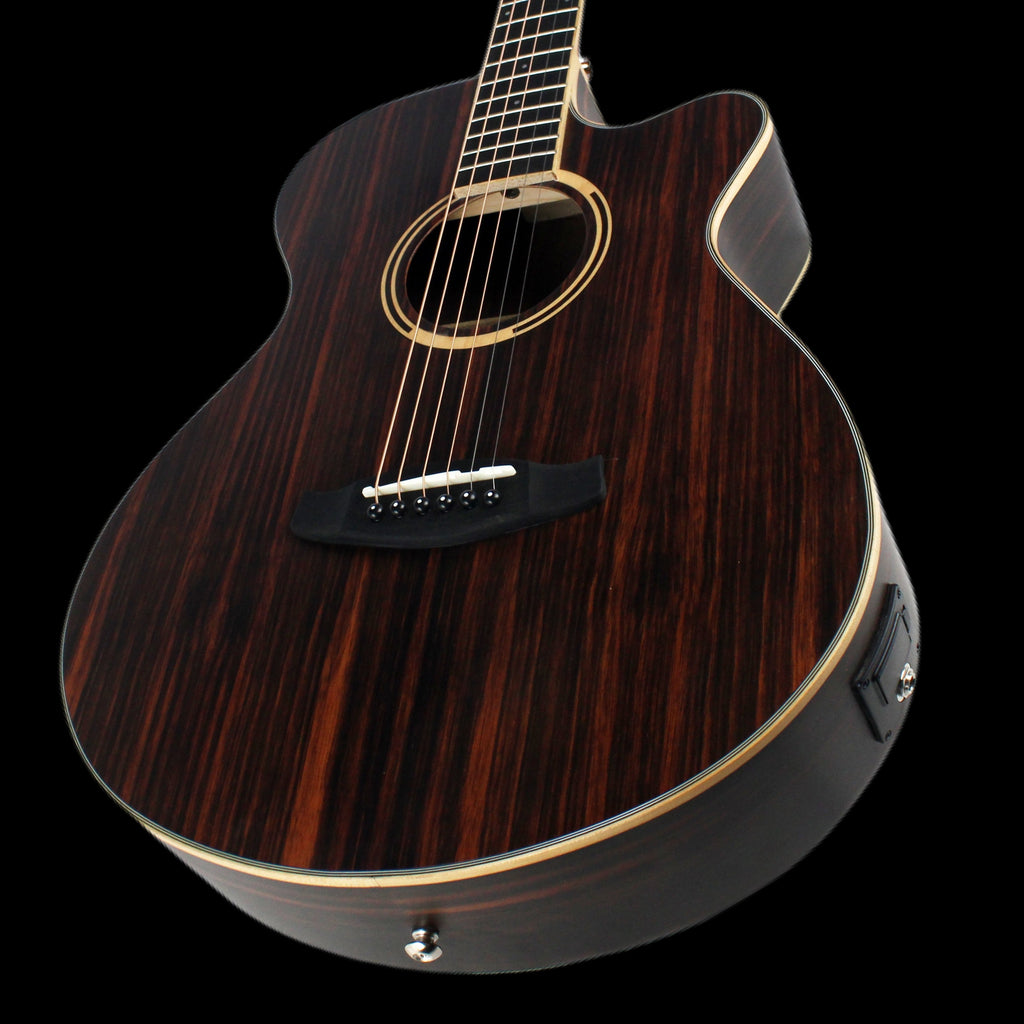 Tanglewood
Tanglewood Discovery DBT SFCE Electro Acoustic Guitar in Ebony
Regal on the eye, easy on the bank balance. This Tanglewood DBT SFCE AEB Discovery Folk Electro Acoustic takes style and inspiration from high-end instruments, and packs it into one truly affordable Tanglewood Super Folk! Whether you're upgrading your beginners guitar, or simply ready to play something different to your norm - this is it.

Made entirely from eye-catching ebony, you have one classy-looking instrument with a distinctive tone to match. Explore a dark, luxurious character with great dynamics and strong bass. From first strum, your tone is loud, clear, and beautifully expressive. And, it responds to your individual technique too. Play your way, and reach for new melodies with one smooth movement thanks to a Venetian cutaway. Plus, you can take your persona straight to the stage or studio with Tanglewood's quality on-board preamp. No matter your skill, this Discovery Folk is designed to meet your needs for superb sound, a fantastic feel, and sophisticated style. Get inspired, and discover your true persona with the Discovery Electro Acoustic.

This Tanglewood Discovery holds a distinct look, with a special tone to match. And also Tanglewood respect your views for affordability and great quality. So, to encourage you to become the guitar-legend you always wanted to be. They bring you one good-looking, superb-sounding instrument with the comfort you deserve throughout your entire journey. You won't be disappointed.

Sonically, the Discovery Folk offers a rich, textured sound with plenty of depth. This is thanks to its all-ebony construction. Allowing this DBT SFCE AEB to sing with a clear, defined voice, strong bass, and plenty of dynamic range. A dark, delicious tone that's perfect for a multitude of techniques. If you crave a thick, old-school sound - look no further. Tanglewood's got you covered. Not only does it sound sensational, but it looks luxurious too with its dark, exquisite grain. Truly captivating, and designed to get your creativity flowing.

The super folk continues to live its legacy. To bring you such an all-purpose instrument, Tanglewood began creating a shape that met the specs of the modern industry. Ensuring great playability, tone, and style. Resulting in the birth of the super folk. It was first introduced over 25 years ago as their award winning TW45 Sundance Pro. And right throughout its life, it's earned a rep for being a must-have among folk players.

Bringing more volume and a bigger tone in one comfortable, extremely playable electro acoustic. And Tanglewood know you're not just big on tone, you're big on comfort too. So, to encourage you to keep playing, this instrument was designed with both beginners and seasoned pros in mind. Ensuring each time you pick up this Discovery Folk, it's an experience you love, adore, and cherish. Plus, with a stylish Venetian cutaway, you can reach for new melodies with ease. No matter your style, this is an instrument that allows you to play, your way.

You know the Discovery Folk feels fantastic, and it sounds superb. And, it has style that was born to perform. So why not take to the stage or studio? Whether you're rehearsing in the comfort of home, hold a regular weekend slot, or heading to your first live performance - you've got Tanglewood's own built-in electronics to see you through any live setting. Once plugged in, you've got four tone tweaking options. Adjust the slider switches for presence, bass, middle, and treble to find your most goose-bump-inducing tone. Plus, with an on-board chromatic tuner, you'll always be in perfect pitch with the Discovery Folk.

SPECIFICATIONS:
Product: Tanglewood DBT SFCE AEB Discovery Folk Electro Acoustic, Ebony
Code: DBT-SFCE-AEB
Series: Discovery Exotic
Body & Bridge
Top Material: Ebony
Body Material: Ebony
Body Type: Super Folk
Bridge Material: Black Walnut
Finish: Natural Satin
Neck & Fingerboard
Neck Thickness First Fret: 20.5 mm
Fingerboard Material: Eboncore
Fingerboard Inlays: 2 mm Dot
Neck Finish: Natural Satin
Nut Width: 43 mm
Scale Length: 650 mm
Hardware & Electronics
Hardware Colour: Chrome
Tuning Machines: Tanglewood Chrome w/ Soft Touch Buttons
Electronics: Tanglewood TW-EX4

All our guitars have a Gold Service before we allow them to leave!!

A new set of strings if needed.

String height, truss rod and intonation adjusted.

Polished frets.

Lemon oiled fingerboard (If applicable).

Electrics checked and serviced.

A final polish of the guitar before delivery.
---
Share this Product
---
More from this collection